Ryan Tani, Music Director
A driven and versatile conductor, Ryan Tani has been praised for his compelling musicianship in a wide range of symphonic and choral repertoire. He has recently been appointed Music Director of the Occasional Symphony in Baltimore. He also serves as Assistant Conductor of the Chesapeake Youth Symphony Orchestra, Assistant Conductor of the COSMIC Orchestra, and Conducting Fellow for the Montgomery Philharmonic. In 2015, he was declared the winner of the ACDA Undergraduate Student Conducting Competition at their national conference in Salt Lake City, Utah.
During his tenure as Co-Founder and Music Director of the Concerto Chamber Orchestra from 2012-2015, Ryan helped positively shape the orchestral scene in the Los Angeles area by providing a medium for high-level performance opportunities to student musicians of all majors.
An advocate of new and early music, Ryan has stayed active as conductor and performer for new compositions by emerging composers. At both the University of Southern California and Peabody, he has regularly recorded and performed many new works for orchestral, chamber, and choral ensembles. He also performed as a tenor with new music ensembles Third Practice in Baltimore and Thornton Edge in Los Angeles, and remains in demand as a conductor for composition recitals.
Ryan recently completed his Master of Music degree in Conducting from the Peabody Institute, studying under Marin Alsop and Markand Thakar. In addition to his studies at Peabody, Ryan has also studied conducting under Gerard Schwarz, Larry Rachleff, Grant Cooper, and José-Luis Novo. Ryan actively sings as a tenor in the Baltimore area, and plays violin, jazz piano, viola da gamba, and Renaissance recorder for enjoyment. As an avid runner, he enjoys exploring new routes in the greater Maryland area.
Elisabet Pujadas, Founding Member & CEO
Elisabet Pujadas, MD, PhD, is an Anatomic Pathology resident at Mount Sinai Hospital in New York City. She was a founding member and the original Board President of Occasional Symphony, working to refine and strengthen its core mission as the organization grew in both size and scope. Elisabet also served as Board President for Baltimore Concert Opera (2017-2019), worked as a Production Assistant at the Cabrillo Festival of Contemporary Music led by Marin Alsop (2011-2013) and created and led 'Hopkins Evenings at the Symphony,' a collaboration between Johns Hopkins and the Baltimore Symphony Orchestra (2011-2016).
Vicky Ritter, Board President & Orchestra Manager
Victoria Ritter is the Registration and Scheduling Coordinator at the Peabody Preparatory of the Johns Hopkins University, where she organizes annually over 300 concerts, recitals, and various other events for the Institute.
Ritter is an accomplished oboe and English horn freelancer. She is the English horn player for Liberty Wind Symphony, oboist for Tiber Wind Quintet, and a core musician of Occasional Symphony. She is also an experienced private lesson instructor and is oboe faculty at the Peabody Preparatory.
Victoria earned her Bachelor of Music at the University of Illinois and graduated from Peabody with a Masters in Music Performance.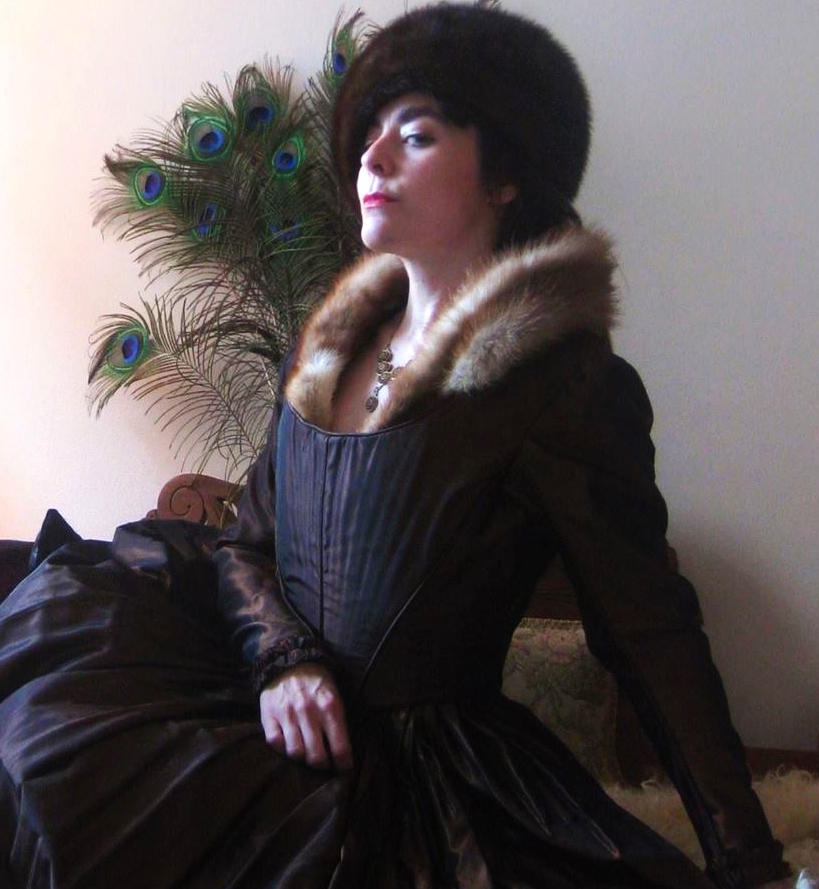 Samantha Buker, Board Vice-President
Samantha Buker is a Renaissance women-about-town and passionate arts advocate. She is Program Manager of the Visual Art Department at Baltimore School for the Arts. She runs 7 Veils Studio in Mt. Vernon -- a mixed-media studio for photography, portraiture, painting, upcycling and dollhouse miniatures.
Her published work ranges from classical music criticism to financial journalism. She is a regular presenter at New Music Gathering. She's a graduate of the NEA Arts Journalism Institute at Columbia University's Journalism School and St. John's College in Annapolis.
Joshua Bornfield, Board Secretary
Joshua Bornfield has been called "a completely new and original voice" (Phyllis Bryn-Julson) whose work has "a certain organic power" (Tim Smith, Baltimore Sun). His recent opera "Uncle Alex," written for Washington National Opera, received universal praise in the press and the concert hall. He has won awards for his chamber work ("simplificulticity", 2010 Virginia McCarty-deLillo Award), choral music ("Mi Chamocha", 2010 Donald Sutherland Award), and orchestral music ("Vessel", 2012 Macht Prize; Minnesota Orchestra Composer's Institute, 2013). He has been commissioned to compose music for members of the United States Army Field Band, Washington National Opera, Baltimore Choral Arts Society, and Boston Handel & Haydn Society.
When not composing or performing with any of the myriad ensembles with which he regularly sings, he runs the War Memorial Arts Initiative, an arts education program and concert series based out of the Baltimore War Memorial under the historic properties division of Baltimore City's Department of General Services. His mentors include Jake Heggie, Michael Hersch, Anthony Iannaccone, Kevin Puts, Jena Root, and Judith Lang Zaimont.
Jake Fishman, Director of Operations & Treasurer
Jake Fishman, JD, MS, is a Baltimore-native and practicing attorney at Maryland Legal Aid, providing legal assistance to low-income and marginalized communities in Baltimore. As Director of Operations for Occasional Symphony, Jake enjoys the opportunity to contribute to the vibrant music and arts scene in his hometown. In his personal life, Jake enjoys running and weightlifting, hiking, cooking, and spending time with his wife and their three cats.
Melissa Wertheimer, Director of Development
Melissa Wertheimer leads a life immersed in the arts as a flutist, archivist, librarian, and instructor. Melissa contributes to the artistic life of the Baltimore-DC area as a flutist and new music specialist in Occasional Symphony and Great Noise Ensemble. Through her career as a Music Reference Specialist in the Library of Congress Music Division, she strives to share historic music documents with all music lovers. She volunteers in the library and archives professions as Archivist of the Music Library Association and as a mentor for new professionals in the Mid-Atlantic Regional Archives Conference. Melissa formerly held adjunct teaching positions at Johns Hopkins University and Howard Community College in Maryland, and has also been an education panelist at the New Music Gathering and lecturer at the Boulanger Initiative's Women Composers Festival. Melissa holds a M.L.I.S. in Archives and Digital Curation from the University of Maryland, a M.M. in Piccolo from the Peabody Institute, and a B.M. in Flute from Ithaca College.
Sunny Cowell, Board Member
Sunny Cowell is an attorney licensed to practice law in Maryland, as well as a musician. Growing up in the household of her jazz composer and musician father, Stanley Cowell, Sunny began singing and writing music at an early age. She wrote her first song, "Hear Me One" at 5 years old which became the title tune on one of Stanley Cowell's albums in 1997. At 8 years old, Sunny began classical training on the violin. By 12 years old, she had begun classical study of the viola. Sunny was featured as a jazz violist and vocalist at the Montreal International Jazz Fest in 2004. She was also featured on a week-long music tour in France which included Sunside Club in Paris, Festival La Seyne Sur Mer, and Jazz Festival Foix in 2005. During her high school years, Sunny served as Concert Master for the Burlington Township High School String Orchestra and played the viola as a member of the Philadelphia Sinfonia Orchestra. She also performed on viola as part of her father's Asian Art Suite at the Philadelphia Museum of Art and the Kimmel Center for the Performing Arts.
While attending Swarthmore College, Sunny was a vocalist and composer in Essence of Soul, Swarthmore's R&B and Soul a cappella group, and she was a member of the Fetter Chamber Quartet. During her time in college, she began teaching herself to play the guitar, adding it to her arsenal of musical instruments. In 2010, Sunny was featured as a singer and violist on Stanley Cowell's album "Prayer for Peace." In 2014 she appeared on a Mezzo Live HD TV, France show on vocals and viola with her dad, Stanley Cowell. In 2010, upon graduation from Swarthmore College, Sunny attended the University of Maryland School of Law, and served as the Music Director for the school's a cappella group, Legally Sound. She continued to perform and write her own music for voice and guitar while obtaining her J.D. In 2015, Sunny released her first solo EP-CD "Insecure," a recording of original songs influenced by genres of popular music.
Sunny graduated from the University of Maryland School of Law in 2013, and served as Co-President of the Maryland Intellectual Property Law Student Society (MIPSA). Currently, she works as a Staff Attorney at the MD Legal Aid Bureau in Baltimore City, MD. Sunny is also Vice President of the Piano Choir Inc., a nonprofit dedicated to promoting music education in schools. In addition, Sunny volunteers with the Maryland Volunteer Lawyers for the Arts (MDVLA), providing legal advice to local artists and musicians.
Joelle Arnhold, Board Member
Joelle Arnhold has appeared as a featured artist at the Kennedy Center, Amelia Island Chamber Music Festival, and the Rome Chamber Music Festival. She is the recipient of both the Olga Von Hartz and Israel Dorman Memorial Award for Strings from the Peabody Conservatory, where she also served as the head Humanities Department teaching assistant, and as a Music Theory faculty associate. She is a member of the American Viola Society, with which she has appeared as lecture-recitalist, and, in 2020, as an Emerging Artist recitalist. In addition to teaching violin and viola at The Bryn Mawr School, Dr. Arnhold directs the orchestras at the Levine School in Silver Spring, teaches music at Greenspring Montessori, and enjoys a private violin/viola studio in Baltimore. As a guest educator, she has given masterclasses, recitals, and lectures at the University of Minnesota, Bethany College (KS), Macalester College (MN), and Utah State University. She holds degrees from the Robert McDuffie Center for Strings at Mercer University (B.M., summa cum laude), and the Peabody Conservatory (M.M. and D.M.A.) where she studied with Victoria Chiang.